West Multnomah Soil & Water Conservation District is governed by an elected seven-member Board of Directors. Five directors represent the District's five zones and two directors serve at-large. In addition, the board has four appointed Associate Directors. Elected Directors serve a four-year term, after which the position is placed on the November General Election ballot.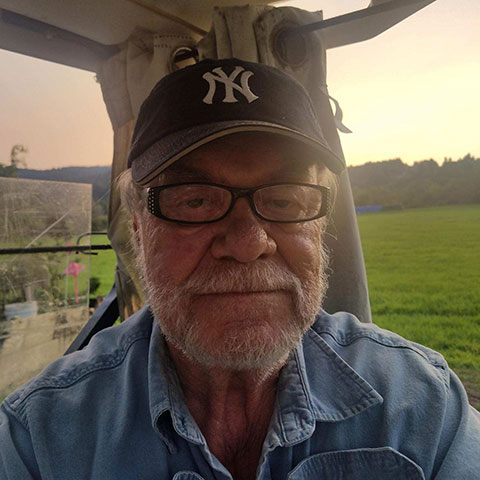 Jan Hamer
Associate Director
---
Bio

Jan has spent 50 years in the electrical field, specifically in designing, engineering, and developing high voltage electrical system upgrades in factories, commercial buildings, system power plants, city and utility electrical systems, including all construction and marine applications.

Twenty-five of those year were spent in industrial manufacturing processes, product (chemical and spectrographic) analysis, air-water chemical solid/hazardous waste management, regulatory compliance, project design and implementation. His business experience also encompasses employee supervision, labor/union relations, skills and sales training, environmental health/industrial hygiene, workers compensation insurance and fiscal management. On the business marketing side, Jan has handled media production and direct service sales and marketing of various product lines. In addition, Jan has nine years' experience rebuilding boat and residential houseboat marinas.

He is an avid wetland and wildlands conservationist exemplified by the development and management of a 35 acre wildlife habitat and hazardous waste clean-up involving factories and water systems.
The Board of Directors typically meets on the third Tuesday of the month at 6:00 p.m. Meeting days may be subject to change for special occasion. We welcome the public to all District board meetings. Contact us at

info@wmswcd.org

or 503-238-4775 x 100 for a virtual meeting access code or other information about an upcoming meeting.
We invite you to review our Policy on Public Participation.
Board Meeting Agendas & Minutes
| Title | Categories | Link | hf:doc_categories |
| --- | --- | --- | --- |
| Board Meeting Agenda – 2023 September | Agenda | | agenda |
| Board Meeting Minutes – 2023 August | Meeting Minutes | | meeting-minutes |
| Board Meeting Agenda – 2023 August | Agenda | | agenda |
| Board Meeting Minutes – 2023 June | Meeting Minutes | | meeting-minutes |
| Board Meeting Agenda – 2023 June | Agenda | | agenda |
| Board Meeting Minutes – 2023 May | Meeting Minutes | | meeting-minutes |
| Board Meeting Agenda – 2023 May | Agenda | | agenda |
| Budget Committee Meeting Minutes – 2023 April | Meeting Minutes | | meeting-minutes |
| Board Meeting Minutes – 2023 April | Meeting Minutes | | meeting-minutes |
| Board Meeting Agenda – 2023 April | Agenda | | agenda |
| Board Meeting Minutes – 2023 March | Meeting Minutes | | meeting-minutes |
| Board Meeting Agenda – 2023 March | Agenda | | agenda |
| Board Meeting Minutes – 2023 February | Meeting Minutes | | meeting-minutes |
| Board Meeting Agenda – 2023 February | Agenda | | agenda |
| Board Meeting Minutes – 2023 January | Meeting Minutes | | meeting-minutes |
| Board Meeting Agenda – 2023 January | Agenda | | agenda |
| Board Meeting Minutes – 2022 December | Meeting Minutes | | meeting-minutes |
| Board Meeting Agenda – 2022 December | Agenda | | agenda |
| Board Meeting & Annual Meeting Minutes – 2022 November | Meeting Minutes | | meeting-minutes |
| Board Meeting Agenda – 2022 November | Agenda | | agenda |
| Board Meeting Agenda – 2022 October | Agenda | | agenda |
| Board Meeting Minutes – 2022 October | Meeting Minutes | | meeting-minutes |
| Board Meeting Agenda – 2022 September | Agenda | | agenda |
| Board Meeting Minutes – 2022 September | Meeting Minutes | | meeting-minutes |
| Board Meeting Agenda – 2022 August | Agenda | | agenda |
| Board Meeting Minutes – 2022 August | Meeting Minutes | | meeting-minutes |
| Board Meeting Agenda – 2022 June | Agenda | | agenda |
| Board Meeting Minutes – 2022 June | Meeting Minutes | | meeting-minutes |
| Board Meeting Agenda – 2022 May | Agenda | | agenda |
| Board Meeting Minutes – 2022 May | Meeting Minutes | | meeting-minutes |
| Board Meeting Agenda – 2022 April | Agenda | | agenda |
| Budget Committee Meeting Minutes – 2022 April | Meeting Minutes | | meeting-minutes |
| Board Meeting Minutes – 2022 April | Meeting Minutes | | meeting-minutes |
| Board Meeting Agenda – 2022 March | Agenda | | agenda |
| Board Meeting Minutes – 2022 March | Meeting Minutes | | meeting-minutes |
| Board Meeting Agenda – 2022 February | Agenda | | agenda |
| Board Meeting Minutes – 2022 February | Meeting Minutes | | meeting-minutes |
| Board Meeting Agenda – 2022 January | Agenda | | agenda |
| Board Meeting Minutes – 2022 January | Meeting Minutes | | meeting-minutes |
| Board Meeting Agenda – 2021 December | Agenda | | agenda |
| Board Meeting Minutes – 2021 December | Meeting Minutes | | meeting-minutes |
| Board Meeting Agenda – 2021 November | Agenda | | agenda |
| Board Meeting Minutes – 2021 November | Meeting Minutes | | meeting-minutes |
| Board Meeting Agenda – 2021 October | Agenda | | agenda |
| Board Meeting Minutes – 2021 October | Meeting Minutes | | meeting-minutes |
| Board Meeting Agenda – 2021 September | Agenda | | agenda |
| Board Meeting Minutes – 2021 September | Meeting Minutes | | meeting-minutes |
| Board Meeting Agenda – 2021 July | Agenda | | agenda |
| Board Meeting Minutes – 2021 July | Meeting Minutes | | meeting-minutes |
| Board Meeting & Budget Hearing Agenda – 2021 June | Agenda | | agenda |
| Board Meeting Minutes – 2021 June | Meeting Minutes | | meeting-minutes |
| Board Meeting Agenda – 2021 May | Agenda | | agenda |
| Board Meeting Minutes – 2021 May | Meeting Minutes | | meeting-minutes |
| Board Meeting Agenda – 2021 April | Agenda | | agenda |
| Budget Committee Meeting Minutes – 2021 April | Meeting Minutes | | meeting-minutes |
| Board Meeting Minutes – 2021 April | Meeting Minutes | | meeting-minutes |
| Board Meeting Agenda – 2021 March | Agenda | | agenda |
| Board Meeting Minutes – 2021 March | Meeting Minutes | | meeting-minutes |
| Board Meeting Agenda – 2021 February | Agenda | | agenda |
| Board Meeting Minutes – 2021 February | Meeting Minutes | | meeting-minutes |
| Board Meeting Agenda – 2021 January | Agenda | | agenda |
| Board Meeting Minutes – 2021 January | Meeting Minutes | | meeting-minutes |
| Board Meeting Agenda – 2020 December | Agenda | | agenda |
| Board Meeting Minutes – 2020 December | Meeting Minutes | | meeting-minutes |
| Board Meeting Agenda – 2020 November | Agenda | | agenda |
| Board Meeting Minutes – 2020 November | Meeting Minutes | | meeting-minutes |
| Board Meeting Agenda – 2020 October | Agenda | | agenda |
| Board Meeting Minutes – 2020 October | Meeting Minutes | | meeting-minutes |
| Board Meeting Agenda – 2020 September | Agenda | | agenda |
| Board Meeting Minutes – 2020 September | Meeting Minutes | | meeting-minutes |
| Board Meeting Agenda – 2020 August | Agenda | | agenda |
| Board Meeting Minutes – 2020 August | Meeting Minutes | | meeting-minutes |
| Board Meeting Agenda – 2020 June | Agenda | | agenda |
| Board Meeting Minutes – 2020 June | Meeting Minutes | | meeting-minutes |
| Board Meeting Agenda – 2020 May | Agenda | | agenda |
| Board Meeting Minutes – 2020 May | Meeting Minutes | | meeting-minutes |
| Board Meeting Agenda – 2020 April | Agenda | | agenda |
| Board Meeting Minutes – 2020 April | Meeting Minutes | | meeting-minutes |
| Board Meeting Agenda – 2020 March | Agenda | | agenda |
| Board Meeting Minutes – 2020 March | Meeting Minutes | | meeting-minutes |
| Board Meeting Agenda – 2020 February | Agenda | | agenda |
| Board Meeting Minutes – 2020 February | Meeting Minutes | | meeting-minutes |
| Board Meeting Agenda – 2020 January | Agenda | | agenda |
| Board Meeting Minutes – 2020 January | Meeting Minutes | | meeting-minutes |
| Board Meeting Agenda – 2019 December | Agenda | | agenda |
| Board Meeting Minutes – 2019 December | Meeting Minutes | | meeting-minutes |
| Board Meeting Agenda – 2019 November | Agenda | | agenda |
| Board Meeting Minutes – 2019 November | Meeting Minutes | | meeting-minutes |
| Board Meeting Agenda – 2019 October | Agenda | | agenda |
| Board Meeting Minutes – 2019 October | Meeting Minutes | | meeting-minutes |
| Board Meeting Agenda – 2019 September | Agenda | | agenda |
| Board Meeting Minutes – 2019 September | Meeting Minutes | | meeting-minutes |
| Board Meeting Agenda – 2019 August | Agenda | | agenda |
| Board Meeting Minutes – 2019 August | Meeting Minutes | | meeting-minutes |
| Board Meeting Agenda – 2019 June | Agenda | | agenda |
| Board Meeting Minutes – 2019 June | Meeting Minutes | | meeting-minutes |
| Board Meeting Agenda – 2019 May | Agenda | | agenda |
| Board Meeting Minutes – 2019 May | Meeting Minutes | | meeting-minutes |
| Board Meeting Agenda – 2019 April | Agenda | | agenda |
| Board Meeting Minutes – 2019 April | Meeting Minutes | | meeting-minutes |
| Board Meeting Agenda – 2019 March | Agenda | | agenda |
| Board Meeting Minutes – 2019 March | Meeting Minutes | | meeting-minutes |
| Board Meeting Agenda – 2019 February | Agenda | | agenda |
| Board Meeting Minutes – 2019 February | Meeting Minutes | | meeting-minutes |
| Board Meeting Agenda – 2019 January | Agenda | | agenda |
| Board Meeting Minutes – 2019 January | Meeting Minutes | | meeting-minutes |
| Board Meeting Agenda – 2018 December | Agenda | | agenda |
| Board Meeting Minutes – 2018 December | Meeting Minutes | | meeting-minutes |
| Board Meeting Agenda – 2018 November | Agenda | | agenda |
| Board Meeting Minutes – 2018 November | Meeting Minutes | | meeting-minutes |
| Board Meeting Agenda – 2018 October | Agenda | | agenda |
| Board Meeting Minutes – 2018 October | Meeting Minutes | | meeting-minutes |
| Board Meeting Agenda – 2018 September | Agenda | | agenda |
| Board Meeting Minutes – 2018 September | Meeting Minutes | | meeting-minutes |
| Board Meeting Agenda – 2018 July | Agenda | | agenda |
| Board Meeting Minutes – 2018 July | Meeting Minutes | | meeting-minutes |
| Board Meeting Agenda – 2018 June | Agenda | | agenda |
| Board Meeting Minutes – 2018 June | Meeting Minutes | | meeting-minutes |
| Board Meeting Agenda – 2018 May | Agenda | | agenda |
| Board Meeting Minutes – 2018 May | Meeting Minutes | | meeting-minutes |
| Board Meeting Agenda – 2018 April | Agenda | | agenda |
| Board Meeting Minutes – 2018 April | Meeting Minutes | | meeting-minutes |
| Board Meeting Agenda – 2018 March | Agenda | | agenda |
| Board Meeting Minutes – 2018 March | Meeting Minutes | | meeting-minutes |
| Board Meeting Agenda – 2018 February | Agenda | | agenda |
| Board Meeting Minutes – 2018 February | Meeting Minutes | | meeting-minutes |
| Board Meeting Agenda – 2018 January | Agenda | | agenda |
| Board Meeting Minutes – 2018 January | Meeting Minutes | | meeting-minutes |