URBAN COOPERATOR AWARD: Joel Hanawalt
Joel has a vision of a restored Deer Creek Watershed. He has brought his neighbors together on a project, partially supported through OWEB funding, to which Joel has contributed considerable amounts of time on monitoring, removing invasive plants, and planting native plants along Deer Creek.
RURAL COOPERATOR AWARD: Jennifer Rose Marie Serna, Wapato Island Farm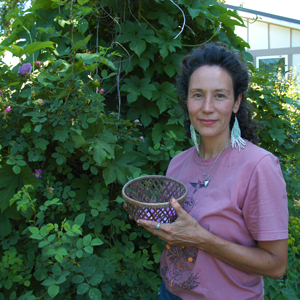 We recognize Jennifer's leadership in conservation and dedication to soil health practices, regenerative farming, skill sharing, and support for her farming community. We are also grateful for the time she dedicated to helping serve on our Long Range Business Plan Advisory Committee. (Read more about Jennifer.)
NON-PROFIT PARTNER AWARD: Neighbors West Northwest
Neighbors West Northwest (NWNW) stepped up flexibly, nimbly, and thoughtfully as new fiscal agents for the Westside Watershed Resource Center when the center had an unexpected need to quickly make that change. Filling this gap allowed important programming that serves our District residents to continue without skipping a beat, including the Stormwater Stars program, Native Plant Swap, the Southwest Portland Tool Library.
VOLUNTEER AWARD: Xuan Sibell, Budget Committee Member
Xuan has been a dedicated member of WMSWCD's Budget Committee since 2013. Additionally, she has been an active volunteer over the years with events and programs that WMSWCD supports with staff time and funding, such as the Tryon Creek Watershed Wide event and the Multnomah County Master Gardeners.
GOVERNMENT PARTNER AWARD: Portland Bureau of Environmental Services, Mitch Bixby, Botanic Specialist (ED/RR)
Mitch's deep expertise, infusion of energy, dedicated perseverance, and well-coordinated efforts spanning many important natural resource issues affecting our region has, and continues to have, a broad impact in our District work and mission. Mitch has been working on EDRR with WMSWCD for almost 15 years, and Portland Bureau of Environmental Services continues to be an important partner.